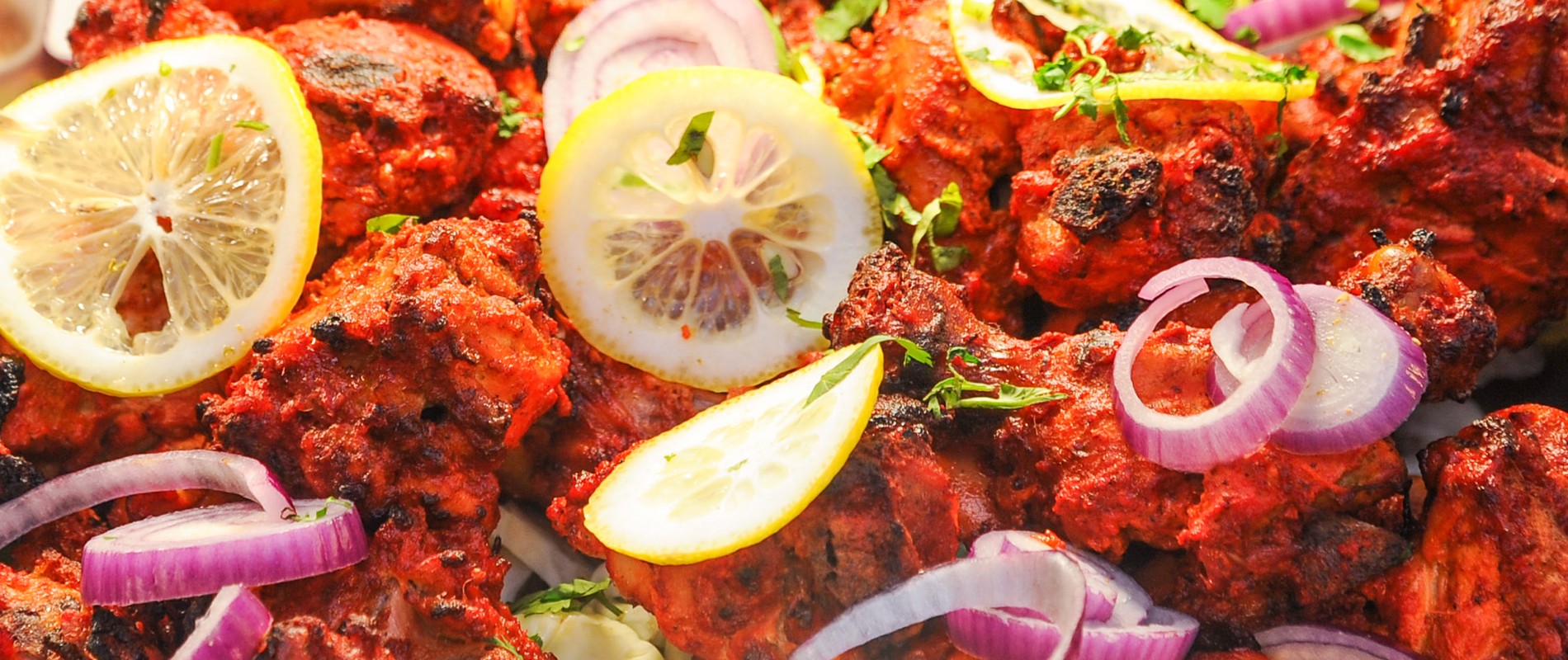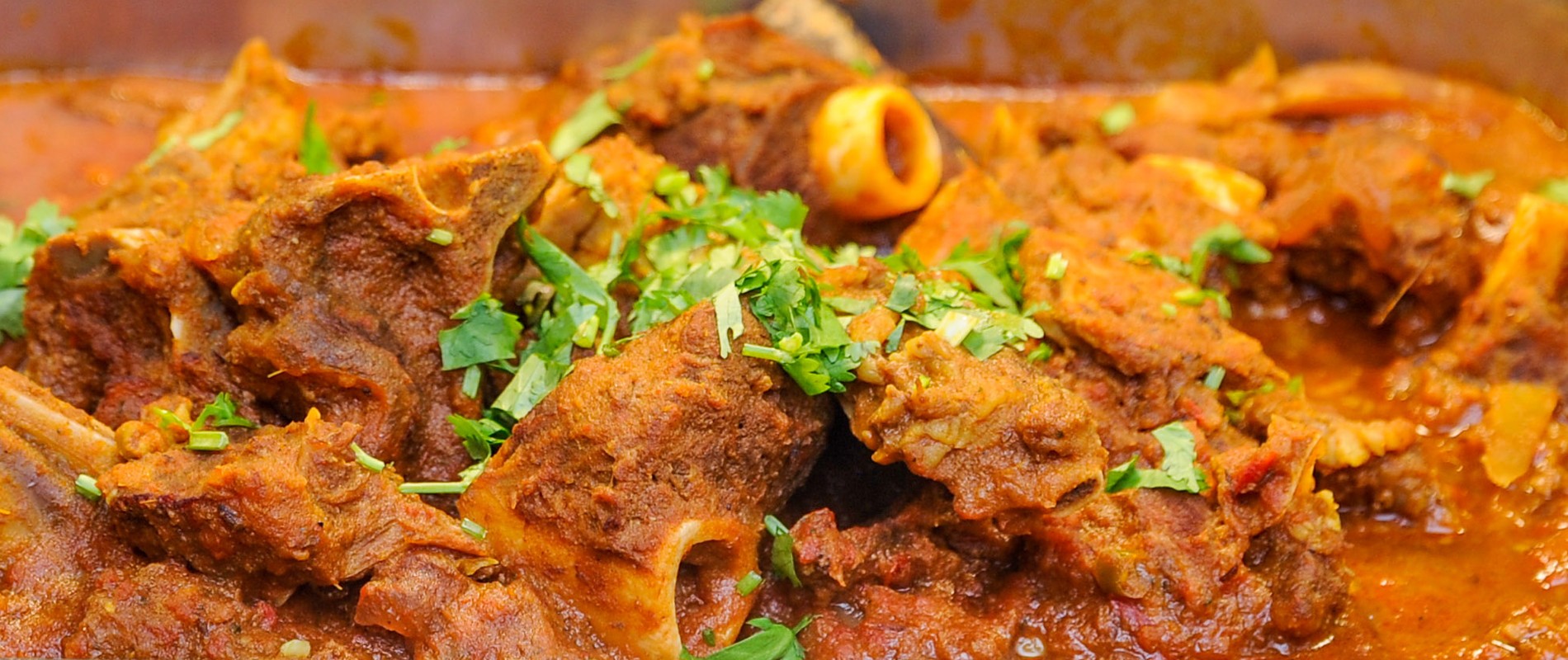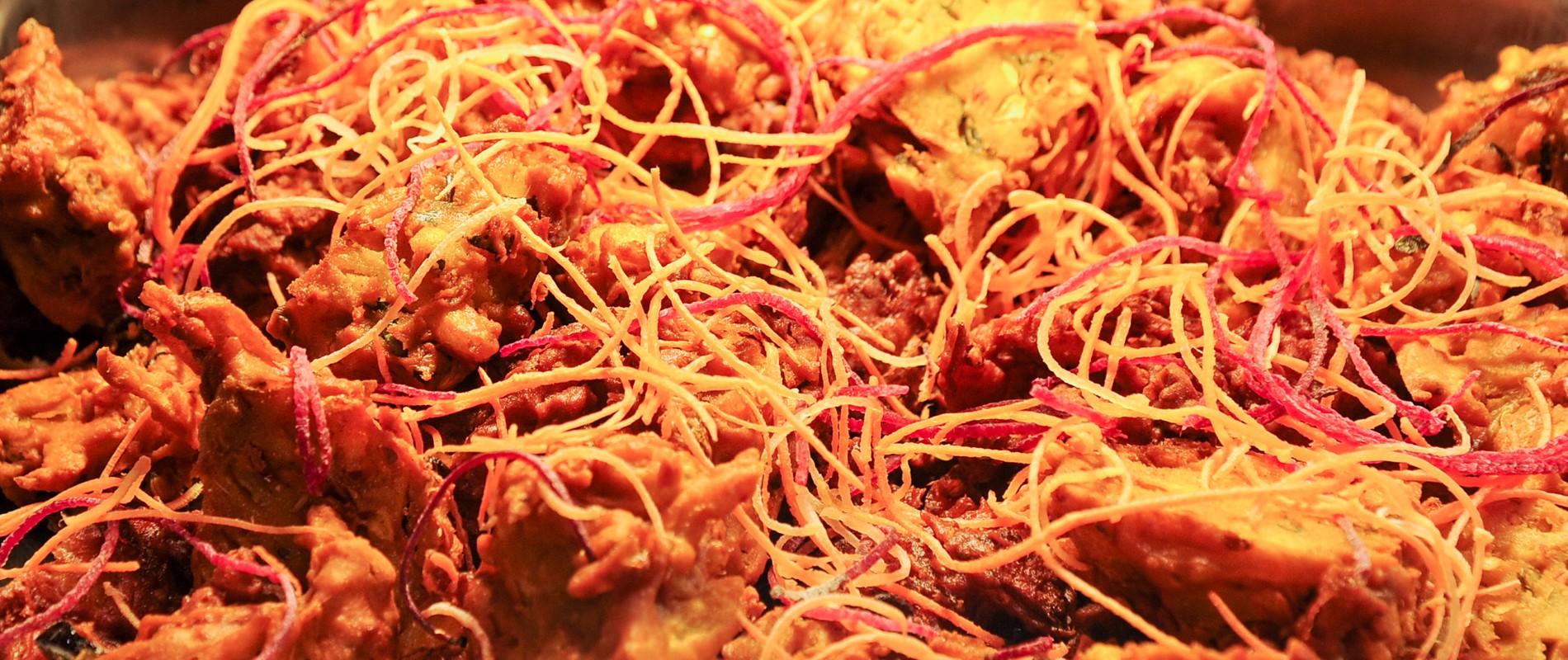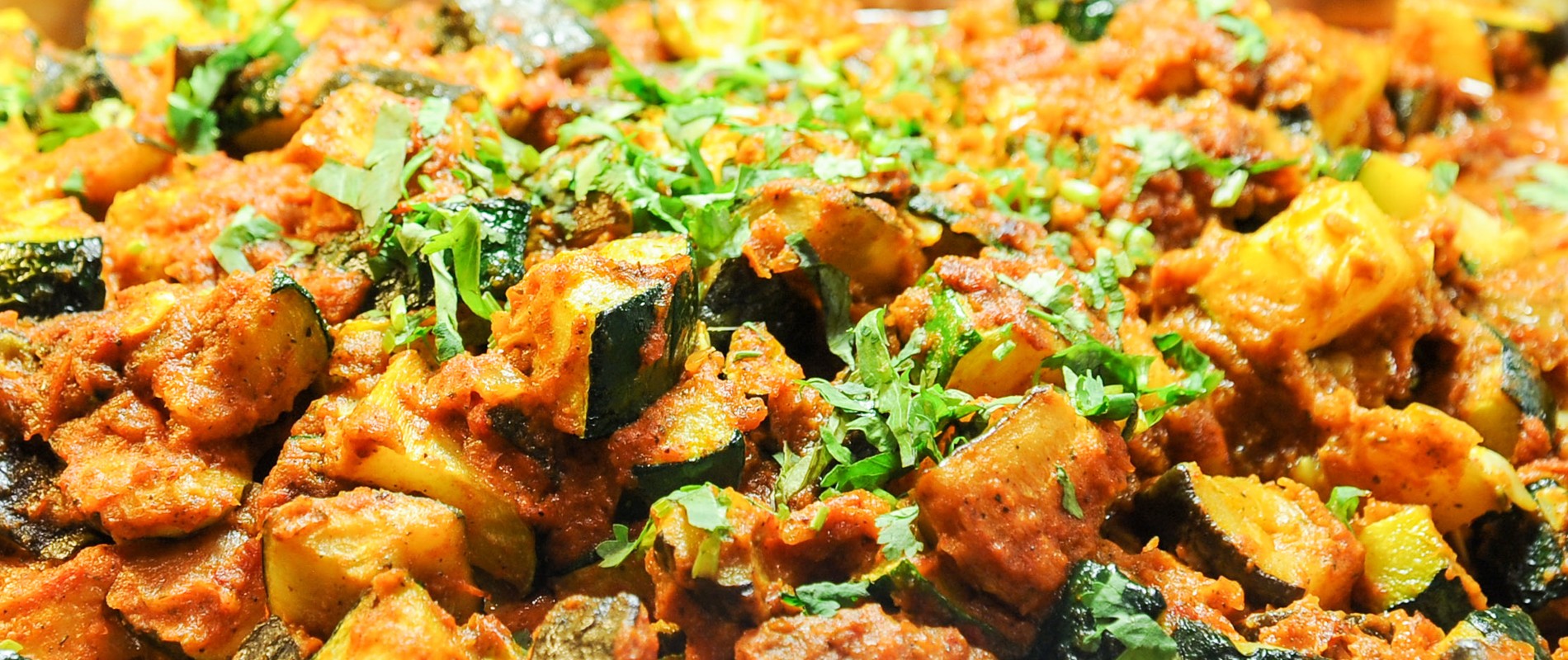 Menus
*Mild **Medium ***Hot ****Extra Hot

Please advise your server of any food allergies.
Shuruvat (Appetizers)
Mulligatwani Soup **
A south Indian specialty, lentil-based, garnished with diced chicken and rice
Vegetable Samosa **
Crisped patties stuffed with lightly spiced potatoes
Mixed Vegetable Pakora **
Assortment of vegetables dipped in chickpea flour batter, and fried
Assorted Platter **
Chicken pakoras, vegetable samosa, onion bhajia and vegetable pakora
Saffron Paneer Tikka **
Marinated home made cottage cheese cubes cooked in charcoal oven
Tandoori Gobhi **
Aroma special cauliflower marinated overnight in spices, yoghurt and baked in tandoor
Chat Papri **
A medley of chickpeas, potatoes and flour crisp tossed with chutney and yoghurt
Bhel Chaupati **
A tangy melange of puffed rice crisp, chopped onion, tomato, lentil vermicelli tossed in chutney
Chicken Pakora **
Juicy chicken fillet batter in gram flour and fried
Amritsari Machi **
Fillet of fish marinated in spices, battered, and fried
Tandoor Ke Namoone (Tandoor Specialties)
Jhinga Nisha *
Prawn marinated in mild spices, B.B.Q. to perfection in charcoal clay oven
Tandoori Prawns ***
Large juicy prawns marinated overnight in garlic, ginger, onion and spices cooked to perfection in tandoor
Chicken Noorani Kabab *
Boneless chicken pieces marinated in almond and light spices from the kitchen of Nawanbs
Chicken Tikka original **
white meat chicken cubes marinated overnight in traditional spices, cooked in charcoal oven
Atish Chicken Tikka **
Chicken cubes in pickle seasoning, enough to tickle your plate
Reshmi Kabab **
Lean minced chicken with ginger, garlic, green pepper and herbs
Chicken Mirch Tikka ***
Boneless pieces of chicken marinated overnight in green chilli, mint, coriander paste, cooked in tandoor
Tandoori Chicken **
Half chicken marinated in yoghurt, ginger, garlic and ground masala paste cooked in tandoor
Lamb Seekh Kabab **
Juicy minced lamb meat with special herb and spices skewered and cooked in tandoor
Lamb Chop Kandhari **
Tender lamb chops marinated in Aroma special marinade cooked in clay oven
Salmon Tikka **
Fresh salmon pieces delicately spiced and grilled in charcoal clay oven
Tandoori Machi **
Whole fish (pomfret) marinated in traditional style and cooked over charcoal oven
Daryayi Namoone (Seafood Curry)
Malai Prawn *
Shrimp cooked in coconut milk, cashew and light spices
Jhinga Masala **
Prawns cooked with red pepper, green pepper, onion, tomato and spices
Prawn Vindaloo ****
Large prawns cooked with fiery red hot spices (A Goan specialty)
Fish Malabari **
Fish curry made with freshly ground coconut and array of masterfully blended spices. A specialty of Malabar West Coast of India.
Handi Ki Karamat (Chicken Specialty)
Chicken Tikka Masala **
B.B.Q. cubes of chicken cooked with tomatoes, onions, ginger, garlic and spices
Butter Chicken **
Tender tandoori tikkas simmered with creamy tomato sauce, an all-time favorite
Chicken Lababdar **
Boneless chicken pieces in tomato, onion sauce with a hint of coriander
Chicken Korma Kashmiri *
Chicken cooked in creamy sauce with almonds and dried nuts
Saag Chicken **
Chicken cooked with fresh spinach and herbs
Chicken Jalfregi **
Strips of chicken sautÃed with fresh vegetables and spices
Chicken Vindaloo ****
Hot chicken delicacy from Goa
Chicken Madras ***
Chicken cubes cooked in coconut milk, mustard seeds and curry leaves, a Southern delicacy
Handi Ki Karamat (Meat Curry)
Lamb/Beef Rogan Josh **
Lamb/Beef pieces cooked with onion and yoghurt in flavour of saffron
Lamb Saag **
Lean pieces of lamb cooked in fresh spinach puree with spices
Lamb Korma **
Tender cubes of lamb cooked in rich almond sauce
Bhuna Gosht Punjabi **
Chunks of lamb cooked with tomato, onion, fresh herbs and spices
Sali Boti **
Tender lamb or beef cubes stewed with freshly ground spices and sun-dried apricots, garnished with fine straw potatoes and a tangy sauce
Goat Masaledar **
Fresh Ontario goat meat cooked with thick gravy
Lamb/Beef Vindaloo ****
Lamb or beef cooked in a fiery vinegar flavoured sauce
Kadai Gosht ***
Lamb, beef or chicken cooked with flavourful blend of spices, dried fenugreek leaves, green pepper, and cardamom
Shakahari (Vegetarian)
Saag **
Fresh spinach puree with paneer or potatoes, a classic North Indian dish
Tawa Paneer Masala **
Homemade cottage cheese cooked with green pepper onion, tomato in rich gravy
Khums Matar Paneer **
Curried mushrooms, paneer in mild cashew sauce, green peas
Navratan Korma **
Mixed vegetables cooked with mildly spiced cashew sauce
Kofta Dilruba **
Vegetables and cottage cheese balls simmered in cashew curry sauce
Chana Masala **
Chickpeas prepared in authentic spices with onions and tomatoes
Dal Makhani **
Stewed black lentils and red kidney beans sautÃed with tomato, onion, garlic, and cumin seed
Dal Tadka **
Yellow lentils tempered with tomato, onion, garlic and spices
Mis Mas Tarkari **
Fresh mixed vegetables stir-fried with Indian spices
Eggplant Bharta **
Grilled in charcoal, mashed and cooked with ginger, garlic and spices
Aloo Gobhi **
Cauliflower and potato cooked in aromatic spices
Okra Do Peaza **
Freshly cut okra lightly sauteed with onion and herbs
Dum Aloo Kashmiri **
Potatoes cooked in rich saffron flavoured curry sauce
Basmati Rice
Sada Chawal
Natural aromatic white rice
Peas Pillaw
Basmati rice with saffron and green peas
Chicken Biryani
Baked casserole of basmati rice and chicken richly flavoured with saffron, nuts and raisins
Lamb Biryani
Lean cubes of lamb and basmati rice cooked slowly with spices
Shrimp Biryani
Basmati rice and prawns with wide variety of seasonings and baked slowly
Vegetable Biryani
Mixed vegetables with basmati rice baked with rich saffron flavour, nuts and raisins
Accompaniments
Kheera Raita
Whipped yoghurt with freshly grated cucumbers, lightly spiced
Pineapple Raita
Seasoned yoghurt with fresh chopped pineapple
Katumber Salad
Tossed tomato, cucumber, onion, lemon juice and seasoning to your taste
Indian Breads
Naan
Leavened white flour bread baked in clay oven
Roti
Whole wheat bread baked in clay oven
Garlic Naan
Bread with fresh garlic baked in clay oven
Onion Kulcha
Soft bread stuffed with spiced onions
Kashmiri Naan
Soft flour bread stuffed with dried fruits and nuts, simply a delicacy
Lachha Paratha
Flaky layered bread
Aloo Paratha
Whole wheat bread stuffed with spiced potatoes
Bread Basket
An assortment of pudina paratha, naan, garlic naan, kashmiri naan
Pudina Paratha
Layered bread with fresh mint
Aroma Naan
A light bread stuffed with tender chopped chicken and fresh herbs lightly spiced
Label
* Menu items and prices are subject to change without notice and are displayed for informational purposes only.